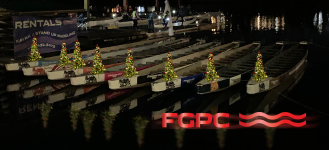 FGPC Christmas Lights Dragon Boat Tour
SKU 00117
Product Details
Save the date! Christmas Lights Tour Dragon Boat Paddle adventure.
Wednesday 18 December, 5:30 – 7:30 pm. Tickets: $25 per person including tax.
Gather your friends for a Christmas Lights Tour armada of dragon boat paddlers venturing into Victoria's pre-Christmas inner harbour. No experience necessary. Paddles, life jackets and safety staff supplied. All ages welcome. Candy canes and hot chocolate will greet you when you return from your adventure. Paddles up!
Please note: If you purchase more than one ticket (that is, if you are purchasing for more than yourself) please ensure that all members of your party have completed a FGPC Waiver before the event (paddlers already in a program do not need to complete another waiver).
CLICK HERE for our waiver.
Save this product for later